Order a two or three course supper for two by midnight Wednesday to collect Friday or Saturday.
Order your kit

Learn about Christmas and the New Year at Wright's including opening hours, preorders and events.
Learn more

Read this week's café menu - including Sunday brunch specials - which may change based on what's fresh.
Read the menu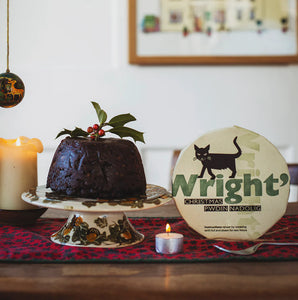 Get a pudding by post! Plus more Christmas goods available for collection.
Order Christmas goods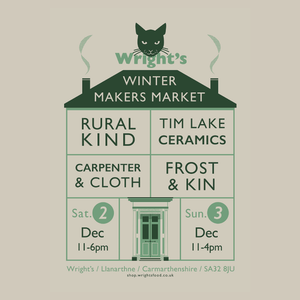 We are pleased to welcome back the Winter Makers Market.
Explore events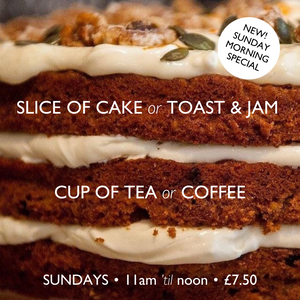 Take advantage of our Elevenses offer on Sundays from 11am 'til noon.
See the menu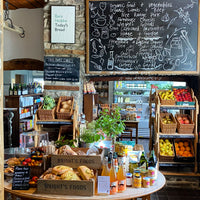 Wright's is a shop and kitchen in West Wales
We are open Thursday - Saturday 12 - 6 and Sunday 12 - 4.
In the shop we stock some of our favourite products and things made in our kitchen. In the cafe we offer a short, weekly changing lunch menu with brunch specials on Sundays. We focus on local and seasonal produce, bake our own bread and cakes, and offer a selection of things we like to drink. We take café bookings for groups over 6 at 12 or 2 only. Otherwise, just pop in.
Get our weekly newsletter for Maryann's recipes, a look at the week ahead and more.
Subscribe to Writes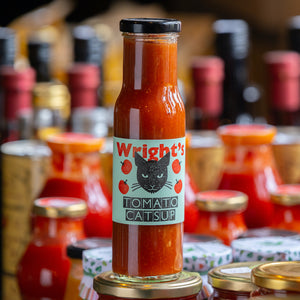 Shop
In the shop you will find fresh produce like local meat, cheese, fruit, vegetables and our loaves. Store cupboard favourites include our own jams, chutneys and condiments, like our Tomato Catsup. We stock tins, jars and dry goods from local makers and from Italy and Spain. On the drinks front you'll find "natural wine" via Wright's Wines, beer, spirits, sodas and juices.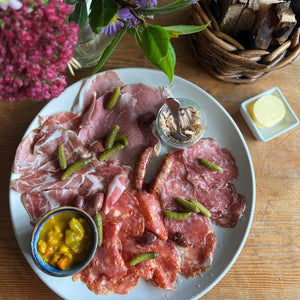 Café
In the café you will find a weekly pick of Wright's favourites such as sandwiches, salads, soup and stews, plus sides, cakes, beer, wine, hot drinks and our own sodas and juices. On Sundays we offer a few brunch options alongside some items from the weekly menu. We post our menu every Monday. It does change based on what's fresh and available.
Read the menu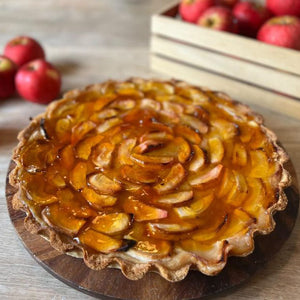 Click & Collect
Each week the kitchen team prepare a Wright's Supper Kit to enjoy at home, no subscription required. You can also order these items individually, and add on bread, produce boxes, drinks and more. Click & Collect is updated by Monday morning. Order by midnight Wednesday and collect Friday or Saturday.
Get started
Location
Open Thursday - Saturday 12 - 6 and Sunday 11 - 4
Wright's, Llanarthne, Carmarthenshire SA32 8JU